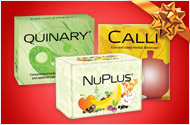 Sunrider whole foods and whole food beverages like Cinnamon Calli Tea, and Cinnamon Fortune Delight, along with Apple Cinnamon NuPlus make delicious winter-time drinks, and you can use this one during the Christmas and New Year holiday season and any time during the year.
SUNRIDER CINNAMON CALLI EGGNOG RECIPE

Ingredients
1 cup strong Sunrider Cinnamon Calli Tea or Cinnamon Fortune Delight
1 cup Vanilla rice milk or almond milk
1  ripe banana
1 package Sunrider NuPlus – use Regular or Simply Herbs or Apple Cinnamon NuPlus
5 drops Stevia (SunnyDew)
1 tsp Vanilla (try to get the alcohol-free kind) – optional
1 Tbsp raw almond butter
1/2 tsp cinnamon  (or use powdered Cinnamon Fortune Delight, just add to taste! and save some to sprinkle on top)
1/2 tsp nutmeg
Directions
1. Prepare your Calli Tea or Fortune Delight Tea first – use 1 Cinnamon Calli Teabag to 2 cups of water, or use 1 package of Cinnamon Fortune Delight to 1 cup of water in preparation.  Or make it stronger or weaker, depending on how much you like cinnamon!
2.  Blend all ingredients together in blender
3.  Pour into glasses
4.  Sprinkle some Cinnamon Fortune Delight straight from the package on top of each glass of Sunrider Eggnog, as well as some nutmeg
5.  Enjoy this delicious, nutritious, superior, high quality nutrition!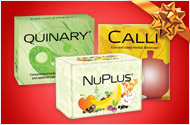 Hint – have a glass of this before leaving for a party – and it will curb your cravings and your appetite for all the high-fat, high-sugar food that is going to be there!
Diana Walker, Sunrider Group Leader, Sunrider Canada and Sunrider USA