Sunrider Prime Again USA P.A. Canada
Sunrider Prime Again USA P.A. Canada for health and longevity and hormonal help, focusing on the Endocrine System.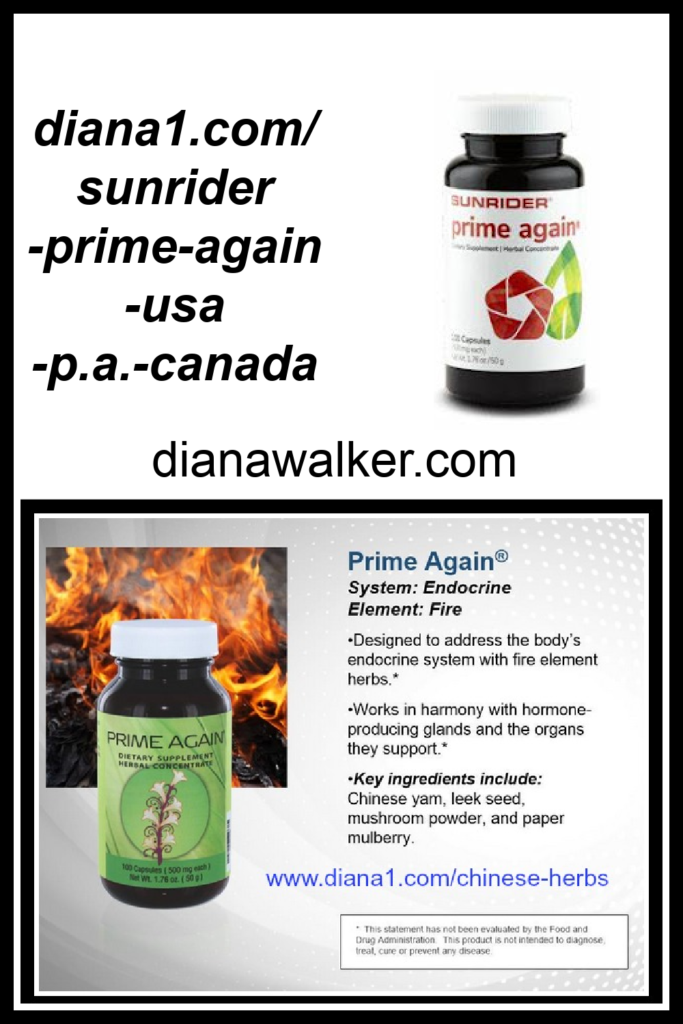 Ingredient Focus: Chinese Yam (A part of the Prime Again Formula):
Sunrider Prime Again contains Chinese Yam
A good source of vitamins B1 and C, this climbing vine also contains significant amounts of potassium, phosphorus, calcium, magnesium, zinc, and copper.  Chinese Yam is one of the key ingredients in Sunrider Prime Again USA P.A. Canada
Top 8 Chinese Yam Health Benefits
1) Strengthening the spleen and stomach to aid digestion. Fresh yam contains amylase, polyphenol oxidase, and other matters, which make it a perfect medicine and food to help digestion and absorption. It helps regardless of it is spleen-yang or stomach-yin deficiency. Therefore, clinically it treats deficient spleen-stomach, loss of appetite, body fatigue, diarrhea and other diseases.
2) Nourishing kidney and enriching essence. It contains a variety of nutrients, which can make the body stronger, nourish kidney, increase sperm count, and improve sperm quality. So, it is widely used for impotence, nocturnal emission, abnormal vaginal discharge, frequent urination, and more;
3) Benefiting lung to stop cough. It contains saponins and mucilage, which have a lubricating and moisturizing effect. Hence, it benefits lung qi, enriches lung yin, and treat chronic cough due to lung deficiency and phlegm;
4) Lowering blood sugar. Fresh yam contains mucus protein that can lower blood sugar. Therefore, it can be used in the treatment of diabetes or a good diabetic diet;
5) Promoting longevity. Raw yam contains a lot of mucus protein , vitamins and trace elements, which can effectively stop the precipitation of lipids in the blood vessel wall and thereby mitigate cardiovascular problems. In other words, it tranquilizes the mind, promotes intelligence, and prolongs life;
6) Preventing hepatic coma. Recent studies have found that Chinese Yam contains a sedative effect and can be used to prevent hepatic coma.
7) Soothing mood and regulating sleep. Unlike ginseng, the medicinal properties of Chinese yams are quite mild and slow. And it can soothe mood and adjust sleep while regulating the function of spleen.
8) Tonifying deficiency. Zhang Zhongjing, one of the best Chinese physicians in TCM history, was very good at using this herb. In his medical book Jin Gui Yao Lue (Essential Prescriptions of the Golden Coffer), it is used to cure qi-blood deficiency, stomach pain, arthralgia, amenorrhea, irregular menstruation and other symptoms.
ENDOCRINE SYSTEM (Sunrider Prime Again USA P.A. Canada)
Signs of Imbalance
Sore or weak muscles
Premature grey
Depression or mood swings
Infertility
Hypertension
PMS
Menopause Problems
Hair Loss
Uncomfortable Stress Symptoms
Muscle and Nerve Problems
THREE SUNRIDER PRIME AGAIN (P.A.) TESTIMONIALS
SM TESTIMONIAL: "I also started taking P.A. daily and noticed that it takes away my dry eye syndrome.
Without Sunrider P.A., I need eye drops daily otherwise my eyes start to absolutely ache in the night due to dryness.
I had stopped taking PA for a couple months and was back to using eye drops for my sore eyes and I hate it, so I'm back to using Sunrider PA! I won't go without either product now!  SM  Have a great day Diana!"
BETTY TESTIMONIAL (July 2022)  I added extra Prime Again and it does help dry eyes.   Due to the supply issues because Sunrider is moving to Dallas, I am only taking 1 capsule in the AM and 1 in the evening.   Just taking that low dosage, the dryness has greatly improved.  Once I finally receive my order, I will take more each day.  Thank you, again for the email.  BETTY
HEALTHY PREGNANCY TESTIMONIAL

My pregnancy went very well. I kept taking Prime Again and the Sunrider basics.  With the exception of some morning sickness here and there I felt great. I absolutely loved being pregnant and felt wonderful! LAURA
(Diana's Note: P.A. is Sunrider's Formula within the Quinary.
P.A. is called Prime Again in USA.
This information is provided for nutritional purposes only.
It is not the intent to diagnose, prescribe or imply treatment.
If you have a medical condition, consult a physician.
---
It would be my joy and pleasure to help you get started on Sunrider Prime Again here:
---
Diana Walker, CEO, Diana's Healthy Lifestyle
Sunrider Leader