Sunrider Diana Walker Fortune Delight
Sunrider Diana Walker Fortune Delight and Evergreen and Vitashake and Quinary – These are just a few of the Sunrider products that I eat and drink every day, and I have for over 22 years.  My Family and Extended Family all love Sunrider whole food plant-based nutrition.
My sons are flying back to the Caribbean.  They loved having Sunrider Fortune Delight and Evergreen when they were here.  My sisters and I always take our Sunrider products when we are travelling.  We are definitely a "Sunrider Family"!!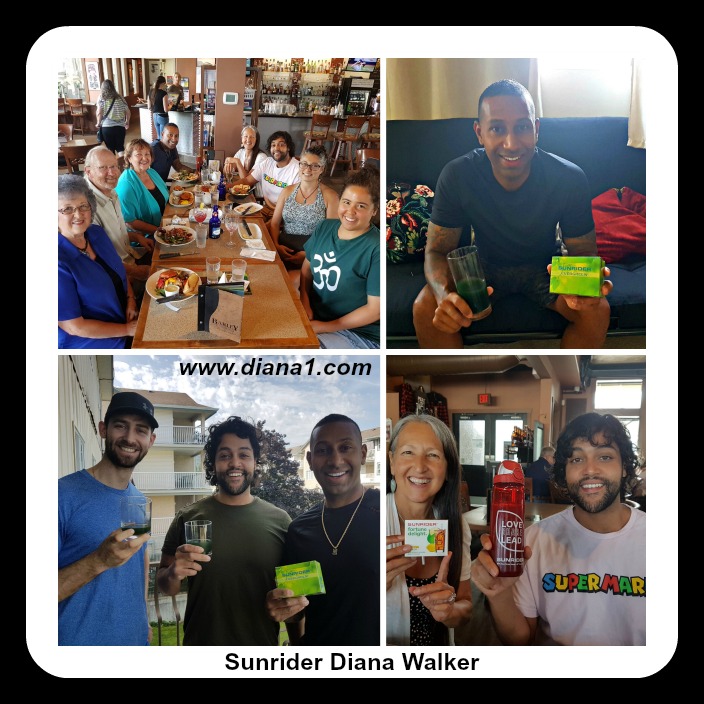 I am so grateful.  Here's why!
 Sunrider Founder Dr. Tei Fu Chen was so far ahead of everyone, and started Sunrider International over 36 years ago (in 1982)
 I don't have to do my own juicing!!!  Juiced plants are so popular now!!!  Dr. Tei Fu Chen started juicing plants 36 years ago.  His expertise in juicing and drying the exact herbs and plants that we need to live a vibrantly healthy life, is unsurpassed.
The Fortune Delight, Vitashake and Evergreen are a delicious and convenient way to get powerful antioxidants and nutrition daily.
It is so easy to get Whole Food Concentrates.  Whole foods are what we want.  Our bodies do not know how to process vitamins and minerals when they are isolated.  That is not how we are made!  Our cells need whole food nutrition, preferably lots and lots of PLANTS!
Owner expertise is especially important in the health and beauty industry to evaluate the safety, quality, and effectiveness of the herbs.
Dr. Tei-Fu Chen has a degree in Pharmacy and is a world-renowned Herbalist.
Dr. Oi-Lin Chen is a licensed Medical Doctor in the United States.
They lead a team of scientists to research, formulate, and manufacture all of Sunrider's products. You will never find questionable or unsafe ingredients in our products.
Fortune Delight®
Comes in 5 Delicious flavours: Lemon, Peach, Raspberry, Cinnamon and Original
See more information here:  https://www.diana2.com/sunrider_fortune_delight.html
* Cleanses the body with naturally derived antioxidants
* Provides healthy hydration for workouts or dieting
* Revitalizes without a sugar or caffeine "crash"
* Supports any weight-loss program
Sunrider Diana Walker Fortune Delight and Sunrider Philosophy of Regeneration
What makes Sunrider products the best?
• The Philosophy of Regeneration®:
A unique blueprint by which every Sunrider® product is made to help Nourish, Balance and Cleanse the body so it can run optimally.
See more here on NBC (Nourish, Balance, Cleanse with Sunrider):
https://diana1.com/nourish-balance-cleanse-with-sunrider/
• Concentration:
Of course antioxidants are good for you, but their benefits are multiplied exponentially with proper concentration.
That's why every Sunrider® product is highly concentrated—to provide maximum benefits and effectiveness.
• Owner Expertise:
Sunrider's owners are professionals in Medicine, Pharmacy, and Herbal Studies
They know exactly what they are doing and what goes into every product.
To assist in product endeavors, Sunrider hires only the most talented, experienced, knowledgeable professionals.
According to the Philosophy of Regeneration™, the body can balance itself when nourished and cleansed with the proper nutrition.
Thus, all Sunrider® products are exclusively formulated to keep a balance between yin (nourish) and yang (cleanse) and the body's five systems.
Sunrider Diana Walker Fortune Delight
It would be my joy and pleasure to help you get started on these wonderful and delicious plant-based whole foods here:

I mail free Sunrider samples to all new Customers.
https://www.diana2.com/free_sunrider_account.html