Sunrider Vitaspray
Sunrider VitaSpray for B Vitamins, and particularly Vitamin B12
Each spray provides 200% of the recommended daily value of vitamin B12 with a proprietary blend of herbal extracts and minerals, including citrus bioflavonoids, luo han guo, biotin, calcium, potassium, zinc, iron, selenium, and more.
Sunrider VitaSpray is an all natural, no sugar vitamin spray that refreshes your breath. It contains Vitamin B- 12, Vitamin B complex, minerals, and herbal extracts.
VitaSpray enables the vitamins to be absorbed into the body quickly and efficiently under the tongue. This is much safer and more comfortable than B-12 injections. It will easily fit into your purse or pocket.
Sunrider VitaSpray – Do you need some Quick Energy? Feel Stressed?
TESTIMONIAL FROM AIDAN'S GRANDMA:
Do what Aidan does! He uses VitaSpray! He loves it! In fact he could spray a whole bottle in just a few hours. So we have to watch him! He craves the stuff!
Aidan is my grandson and he is a very picky eater so Vitaspray is great for him, especially when he feels stressed. Me too! We usually need it together! Ha! Ha!
All jokes aside. I have seen amazing recoveries with VitaSpray. Why?
You probably have read that the B Vitamins are called our "Stress Vitamins". So when under more stress than usual it is good to take extra vitamin B's. NuPlus and VitaShake are jam packed with naturally occurring vitamin B's in whole food form, so make sure to have your NuPlus daily.
However, for something quick, just squirt a little VitaSpray. It instantly is absorbed into your system by just a few quick sprays into your mouth! It tastes great and refreshes your breath! You've got to try it!
Sunrider VitaSpray is Available in spray-form only
This method of delivery helps ensure greater absorption of the vitamin B12 and other nutrients found in this herbal complex.
Why we need vitamin B12:
Maintain optimum health
Support metabolism functions
Promote red blood cell formation
Address the central nervous system
Help boost low energy levels
Sunrider Vitaspray – Vegetarians, Vegans, Seniors
Because vitamin B12 primarily comes from animal products such as eggs, meat, poultry, shellfish, and milk, people following a vegetarian or vegan diet are more likely to require B12 supplements.
Others who may require B12 supplements are those over 60, because deficiency problems increase as we age, those with absorption problems, and those with less than ideal gastrointestinal health.
Sunrider Vitaspray is also handy for people who have difficulty swallowing tablets and capsules.
"VitaSpray®is absolutely one of my favorite Sunrider® products. As a Professor of Nutrition, I realize the importance of B vitamins and especially B12. VitaminB12 helps in maintaining the health of the nerve cell and the nervous system.Vitamin B12 is also needed for the synthesis of the red blood cells. B12 has been found to be very much needed for the growth and development of children.My children use VitaSpray® daily to help keep them focused and alert at school.It is easy to use and fast acting. As a nutritionist, I look for the bestproducts for my clients and VitaSpray® is the best vitamin B12 spray on th emarket. It is a brilliant product with fabulous results." Dr. Karen S. D., Massachusetts

"My husband and I carry VitaSpray® with us everywhere we travel—he loves it as part of his Sunrider 'jet lag' tool kit. Our granddaughter enjoys a spray under her tongue before and after school, and I also recommend it to my Sunrider customers and Reiki clients. They feel the difference immediately!" Maureen S., Florida
*These statements have not been evaluated by the Food and Drug Administration. This product is not intended to diagnose, treat, cure or prevent any disease.
The primary ingredient in VitaSpray® is Vitamin B12, a water-soluble vitamin, part of the Vitamin B complex that is so important in the maintenance of optimum health. People following a strict vegetarian diet are more likely to require B12 supplements, because B12 comes primarily from animal products, such as eggs, meat, poultry, shellfish and milk products.
Vitamin B12 is important for metabolism, the formation of red blood cells and the maintenance of the central nervous system.* Each spray of this specially formulated herbal complex provides 200% of the recommended daily value of Vitamin B12, and is especially handy for people who have difficulty swallowing vitamin tablets and capsules.
Vitamin B-12 has been touted as the "pep vitamin" because it helps form and regenerate healthy red blood cells, which carry energy giving oxygen into our bloodstreams.
Vitamin B-2 (riboflavin) is necessary for red blood cell formation, antibody production, cell growth, maintenance of good red blood cells.
Vitamin B-1 (thiamine HCI) helps the body turn starch or sugar into energy, good vision, skin, nails and hair.
Vitamin B-5 (panthenol) is sometimes referred to as the "anti-stress" vitamin.
Vitamin B-3 (niacin amide) functions in over 50 metabolic reactions in the body. All of these are important in the release of energy from carbohydrates.
Biotin (part of the B-complex) is important for maintaining tissue health, is necessary in the body's utilization of the Bcomplex vitamins and for converting folic acid into its biologically active form.
Vitamin B-6 (pyridoxine hydrochloride) is necessary for the synthesis and breakdown of amino acids, (the building blocks of protein) and bromeliad is an enzyme extracted from the stem of the pineapple. It is mainly a proteolytic digesting substance, which means that it breaks down proteins into smaller peptonids in fat and carbohydrate metabolism.
Calcium is for building and maintaining bones and teeth.
Potassium is needed for a healthy nervous system and regular heart beat, plus it plays a major role in conjunction with sodium to control water balances in and out of the cell walls.
Magnesium is responsible for more biochemical reactions in the body than any other mineral.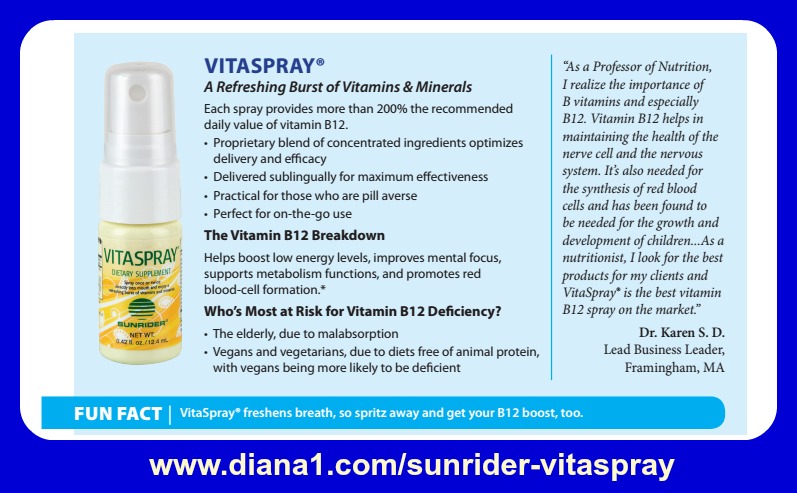 Sunrider VitaSpray Diana Walker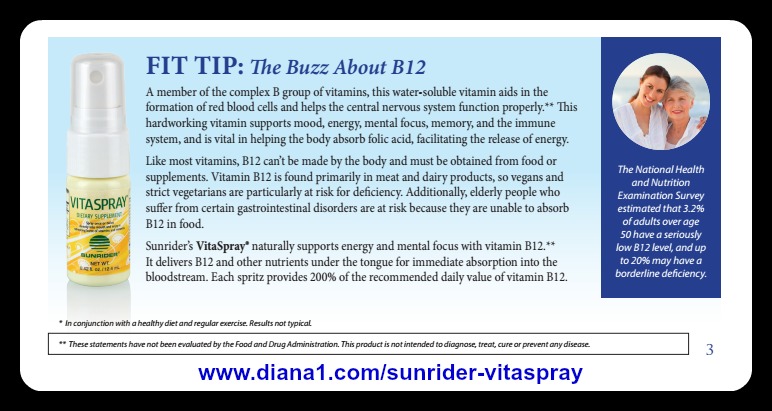 Sunrider Vitaspray Vitamin B12